The Delaware County Historical Society is pleased to present a
Sidewalk Display of Delaware History: Frank B. Willis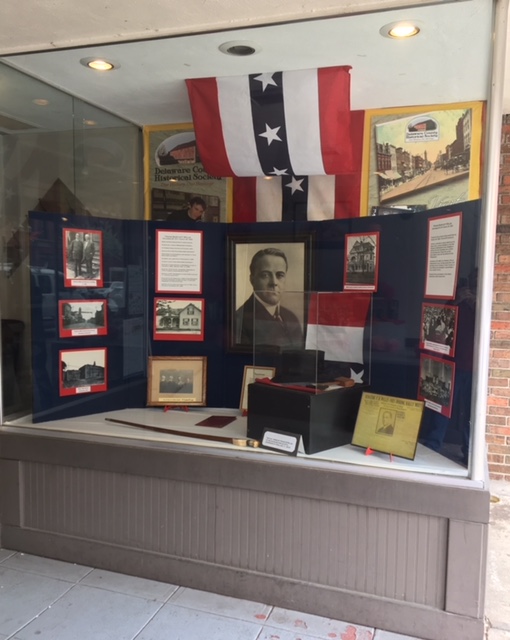 The Sandusky Street display window of The Hair Studio portrays the history of Delaware's own Frank B. Willis.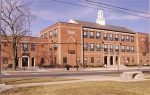 Why Frank B. Willis
Many will recognize the name from the Frank B. Willis High School, or Willis Education Center. Why was his name chosen to grace such an important facility?
Frank Bartlett Willis was a Delaware County native, i.e. was born here in 1871 on Peachblow Road. He graduated from Galena High School. His home was on North Franklin Street in Delaware, when he died. More photos and information about Frank Willis are available on the Society's PastPerfect Online Portal.
Frank B. Willis served the people of Ohio for many years:
Ohio State Legislator (1900-1905)
United States Congressman (1911-1915)
Ohio's 47th Governor (1915-1917)
United States Senator (1921-1928)
Willis might have been our 31st President if it wasn't for his untimely death just before he was to announce, right here in Delaware, his run for the Presidency.
Come view the window display and see Frank B. Willis's Top Hat and Cane along with historical photos and facts of his life.
Benny Shoults and Maggie Webb have created a wonderful presentation that brings Delaware history to life through historic artifacts, information, and photographs.
The artifacts in the display are from the Delaware County Historical Society's extensive collection. Visit the Cryder Historical Center and Research Library at 157 W Williams Street to see more.
About The Hair Studio
The Hair Studio at 33 North Sandusky Street in Downtown Delaware Ohio has graciously made their window available the Society for several years. If you are downtown, be sure to take a look at our display. While you are there, and ask for "Steve" and thank him for the generous use of the space. For a map and directions click here.
The Delaware County Historical Society is a non-profit organization whose mission is to promote, preserve and sustain interest in the history of Delaware County. The Barn at Stratford is operated by DCHS as an event venue for weddings, corporate meetings and other special occasions. To learn more, visit the event venue at barnatstratford.org and the society at delawareohiohistory.org.