Crist Tavern-Millworkers house near Liberty Township makes list of endangered historic sites


Paul Comstock ThisWeek | USA TODAY NETWORK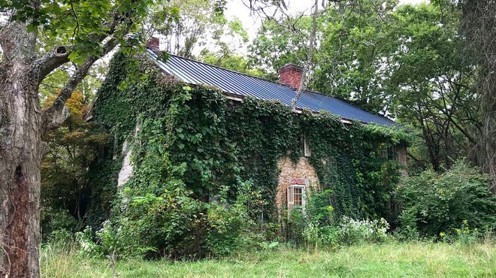 The Crist Tavern-Millworkers Boarding House, built around 1835 on what is now state Route 315, a short distance from U.S. Route 23, has been placed on the List of Ohio's Most Endangered Historic Sites for 2022 by Preservation Ohio.
Sometime around 1835, workers in the mills near the Olentangy River in the city of Delaware – now called the Stratford area – began living in a new 2-story boarding house built with stone walls.
Now called the Crist Tavern-Millworkers Boarding House, the structure, just north of Liberty Township, has been placed on the List of Ohio's Most Endangered Historic Sites for 2022 by the nonprofit Preservation Ohio.
The building − on state Route 315, a short distance from U.S. Route 23 – eventually became a tavern, the Delaware County Historical Society says on its website.
"It has survived many changes but most recently has become a single-family dwelling. It is significant as an example of a building type associated with the milling context," the website says.
It continues: "Thanks to the efforts of the Historical Society's Preservation Committee, this property was added to the list, with the purpose of raising awareness of our precious irreplaceable historic buildings. … We hope the attention drawn to placing the Crist Tavern on the Most Endangered List will generate more interest in the property, and that upon seeing the importance of the building to the history of the area, listing will renew interest in its preservation." the website says.
Preservation Ohio's director explains 'endangered list' process
Thomas Palmer, executive director of Preservation Ohio, said the organization was founded 40 years ago and routinely has issued annual endangered lists since 1993.
"(The Crist Tavern) is an incredibly interesting property and one that merits preservation," he said.
The tavern is one of 13 structures statewide on the 2022 endangered list, the Preservation Ohio website says.
Preservation Ohio lacks the funds to preserve each site but focuses a lot of attention on the plight of each, Palmer said.
"We have great exposure certainly with the media, but also with historic preservation resources and consultants and developers and people who do this for a living," he said. "And we try to put all of these projects in front of those people."
In some cases, he said, Preservation Ohio has been able to place endangered properties on its preservation easement program.
Preservation Ohio's website defines a "preservation" or "façade" easement as a legal agreement in which a property owner conveys the right to control a property's exterior to a qualified organization, such as Preservation Ohio.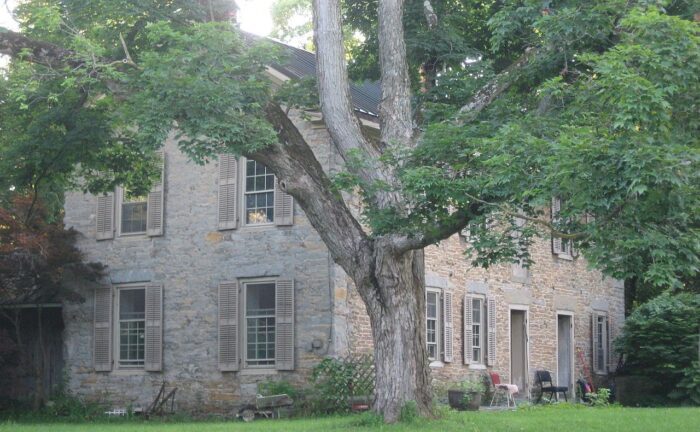 This photo shown on the Delaware County Historical Society's website shows the Crist building in better shape in earlier years, before Virginia creeper and other invasive ivy plants covered it.
Preservation Ohio has six such easements statewide, he said.  In return for the donation of an easement, the property owner could qualify for a charitable tax deduction, Palmer said. Preservation Ohio monitors the parts of the properties governed by the easements and has the legal ability to require changes that conform to the document, he said.
The organization has had numerous successes, Palmer said, among them the Columbus Athenaeum at 34 N. 4th St. in Columbus. The one-time Masonic Lodge now has meeting and event space, plus two theaters, according to its website.
Many of Ohio's endangered historical buildings sustain what Palmer called demolition by neglect – the slow deterioration of a structure that experiences no maintenance.
Crist Tavern-Millworkers building faces conundrum
Dave Kerr, a member of the Delaware County Historical Society board, operates DK Architects at 2960 Columbus Pike in a former stone church built in 1844 that sits in close proximity to the Crist Tavern.
His office routinely fields questions about the tavern, he said.
"People from time to time stop by with a lot of interest in that building," he said. "It's a beautiful old stone building, and a lot of people are interested in (buying) it."
Those who look into the matter more closely soon discover the tavern site has a considerable liability, he said, the lack of public sanitary sewer.
Kerr learned about that before he moved into the former Stratford Methodist Episcopal Church in 2018.
Delaware city's sanitary sewer lines are on the opposite side of Route 23, he said. Because his business has a single office, he said, the city and county gave him approval to install an organic peat filtration system in lieu of a traditional septic system.
That option wouldn't work for someone planning a larger commercial operation at the tavern site, he said.
"Anything that is a commercial use is going to be required to have (city sanitary sewer), and so that is kind of a cost sticking point for the project, for anybody who's trying to do something with that building," Kerr said.
In recent years, he said, the tavern walls have been covered by Virginia creeper, and its roof is starting to show damage.
The Delaware County auditor's records show the tavern and an accompanying 10.7 acres at 2966 Olentangy River Road are owned by Delaware Property Investors LLC.
The Ohio Secretary of State's Office records show that KGM Agent Inc., 250 E. Town St. in Columbus, is the agent for Delaware Property Investors.
ThisWeek has been unable to reach anyone associated with ownership of the property.
Palmer said he can't predict the tavern's fate.
"I would say that the majority of (the sites on the endangered list), we do what we can," he said. "But if after a year of two, it doesn't seem like any local support is coalescing behind them, we tend to just move on."