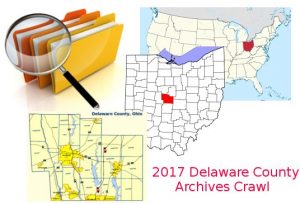 October is American Archives Month
An opportunity to raise awareness about the value of archives and their staff. Delaware County area repositories are sponsoring a Delaware County Archives Crawl.
An Archive is a repository of information in any form; books, files, folders, recordings, video, graphics, even objects. An Archive may be owner or operated by an individual, organization, or governmental body. Examples include: libraries, Records Centers, and Museums.
An Archive Crawl is a search to find archives, visit them and get a stamp to confirm your visit.
Your goal for the Archive Crawl is to visit as many of the participating repositories as possible during the month of October and have collect a stamp in your passport from each. Crawlers who visit at least five participating repositories could win a gift bag of items donated by the repositories.
Passports can be obtained, starting October 1, 2017, at the Delaware County Records Center web page or at any of the participating repositories (Except the Ohio Fallen Heroes Memorial).
Repositories Participating in the Archives Crawl
Beeghly Library of Ohio Wesleyan University
Ohio Wesleyan University
Big Walnut Area Historical Society/Myers Inn Museum
Community Library, Sunbury
Delaware County District Library/Main Branch
Delaware County Genealogical Society
Delaware County Records Center
Gallant Farm Preservation Parks of Delaware County
Harlem Township/Harlem Township Heritage Inc.
Morrow County Genealogical Society
Powell Liberty Historical Society
Stratford Ecological Center
The Ohio Fallen Heroes Memorial
Wornstaff Memorial Library
Return your Passport any participating repository no later than 8:30 am on November 1, 2017. Gift bag winners will be contacted at a later date.