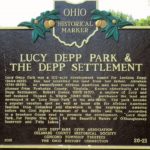 The Delaware County Historical Society(DCHS) announced it's upcoming historical visit,
taking place on Sunday, June 11, at the Depp Cemetery in Lucy Depp Park, Delaware County. The tour will begin at 2:00 PM.
Led by long-time Lucy Depp Park resident, Michael Hamilton, the tour will explore the history of the area and its residents, dating back to when Abraham Depp purchased the original 400-acres in 1835.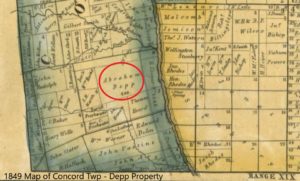 "Back by popular demand, Depp Cemetery was included on our 2022 DCHS Tour of Cemeteries and continues to fascinate visitors from our local community and beyond," said Donna Meyer, DCHS Executive Director. "The Depp Settlement is a significant historical landmark in Delaware County. It was originally owned by an emancipated African-American pioneer and played an important role as a stop on the Underground Railroad and, later, an African-American resort community. This tour is an opportunity to learn more about the families who visited, called this area home and helped shape our shared history here in Delaware County."
This free event is open to the public. Those interested in attending are asked to register at  https://www.eventbrite.com/e/649826517607
Tour participants should plan to arrive at 6000 Harriott Road in Powell between 1:45 and 3:30 PM. Parking is available at Adaptive Sports Connection. A sign will be in the yard at the corner of Harriott Road and State Route 745. The Depp Cemetery is about 100 yards from the parking area.
Those interested can learn more about Lucy Depp Park at http://lucydepppark.com/history/.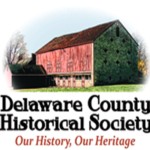 The Delaware County Historical Society is a non-profit organization committed to promoting, preserving and sustaining interest in the history of Delaware County, Ohio. In addition to regular educational programming for all ages, DCHS owns and curates exhibits at several historical sites, including the Nash House Museum, Meeker Homestead & Museum and the Delaware Historic Jail & Sheriff's Residence. Learn more, view event and exhibit schedules and find additional museum information at https://www.delawareohiohistory.org/. The organization also operates The Barn at Stratford event venue for weddings, corporate meetings, and other special gatherings. To learn more or book an event, visit https://barnatstratford.org/.