Description
The wonderful Nectar sign (which still works) dates to The Nectar's opening in 1946. It was made locally by Paul Winters, who also made other local business signs.  Shown here is a 2017 shot of the Delaware Historical Society booth at the Delaware County Fair, which featured the Nectar sign as a part of it display "Restaurants and Ice Cream Parlors".
Background:
The Nectar was located at 23 North Sandusky Street, Delaware.  The original owner was Nicholas A. Zanetos.  Nicholas was born on December 9,1917 to Anthony N. and Lulu (Pathios) Zanetos, who had immigrated to the United States from Greece in 1907.  It was his father Anthony who first entered the candy making business, as an apprentice in a shop in Columbus.  By 1946 Nicholas was a resident of Delaware, and Nectar Candyland opened on December 7 of that year.   That was the same year the letters for the Nectar sign were made. It opened as a restaurant complete with a soda fountain, counter with stools and a row of booths for seating.  It also sold candy at the front.  In 1959, they decided to switch to all candy.  They spent several months remodeling and removing the restaurant features.
Nicholas had married Nicki Vatsures on April 28, 1946, and they had three sons:  Anthony, Thomas, and Craig. Interestingly, the Vatsures family was also in the candy business. (The Society has a photograph taken during the 1913 flood showing the Vatsures' Candies Shop on Sandusky Street.)
Nicholas died on April 1, 1992 at Grady Memorial Hospital "after a long illness". Nicki died on July 6, 2015 at Willow Brook.  Both are buried in St. Mary's Cemetery.
Anthony Zanetos, the oldest son, had taken over operation of the business probably around 1989.  In the late summer of 2008 there were two articles in the Delaware Gazette which explained that the building had been sold to a professional animator who planned to use it for his residence and studio and would be remodeling the first floor to rent out.  Thus, the Nectar was relocating to 12 N Sandusky.  The letters from the old sign were restored and moved to the interior of the new shop; the marble slab and "The Nectar Candyland" sign were also moved there.
On November 13, 2010 another newspaper article announced that after 64 years in business the Nectar was closing.  The headlines read "Recession hits historic Delaware candy store" and details in the story said that they had been unable to find investors and were refused a bank loan in order to keep the business operating.
As an additional side note about the Zanetos candy connection:  the Anthony-Thomas Candy Company, which has a number of stores throughout the Columbus area, was founded in 1952 by father Anthony Zanetos and brother Thomas.  The company has a fund-raising division which operates under the name "Nectar Candy Co. LLC" out of Delaware, OH. To learn more and see photos visit the Anthony-Thomas website.  (Source February 2018 edition of the Delaware County Historical Society's Courier newsletter)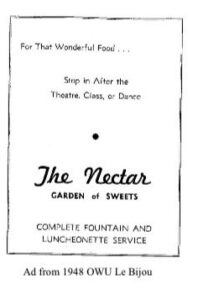 —–
If  this is a gift, enter the name of the recipient at CHECKOUT in Additional information /Order notes
  (for example "Gift to James K. Day")