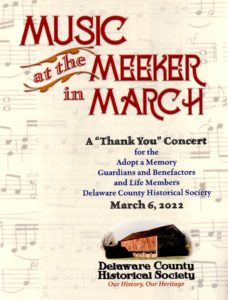 On Sunday March 6th the Delaware County Historical Society hosted a delightful private concert and reception to a capacity audience, for Adopt-a-Memory Guardians and its Life members.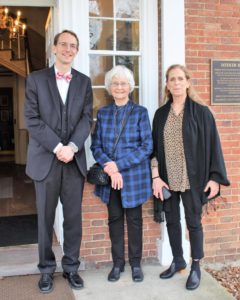 Guest Artist included: David Hejmanowski, and Mary Alice Dillman on the Square Grand piano.  Dillman was accompanied for part of her selections by violinist Susan Waterbury.
The Delaware County Historical Society was given a rare 1847 Rosewood Square Grand Piano, which is on display in the Meeker Homestead Museum's Drawing Room. Last year a donation from a benefactor allowed the Historical Society to restore this Square Grand piano to working order.
The rare Rosewood Square Grand piano was built in Boston about 1847 by Hallett & Allen. The keyboard on a Square Grand is smaller than a typical 88 key piano, consisting of 6 octaves and 75 keys and the sound is described as softer and more harpsichord like. The stings run horizontal not vertical, as on a modern piano.
The Square Grand Piano represents a period of time when the Meeker house would have been at the peak of the Meeker family's presence there and right before the sale of the Meeker House to George Bieber. It is speculated that the accumulated wealth and social standing of the Meeker family would have placed such an instrument in their home, though there is no proof, it would have been a symbol of the social standing of the time.
The Meeker Homestead is a museum within a house.  Although other museums own Square Grand pianos, this event is believed to be the first parlor concert on a Square Grand within a museum.