Delaware County Historical Society

Celebrates the 200th Anniversary of the Meeker House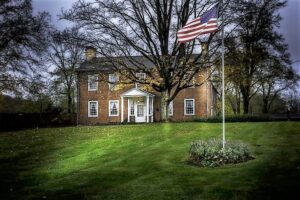 The Delaware County Historical Society (DCHS) announced the 200th anniversary of the Meeker House, located at 2960 Stratford Road in Delaware.
The Meeker Homestead and Museum will reopen on Sunday, April 2, after being closed for three months.
We encourage the public to visit this historic home, open the first Sunday of each month from 1:00 – 4:00 PM.
Visitors will have the opportunity to tour the federal style building and explore The Journey to Delaware County, an interactive exhibit that traces the area's early residents, their reasons for making the journey to Delaware and the challenges they faced coming to Ohio. Costumed docents are on hand to share the history of the Meeker family, the historic homestead, the current exhibits and featured artifacts from the DCHS collection.
"We're proud of the work we've done to maintain, restore and preserve the Meeker property and integrate interesting and educational exhibits for community viewing," said Donna Meyer, DCHS Executive Director. "We have a fantastic team of volunteers and historians who are passionate about our shared history here in Delaware County. They put a lot of time and research into caring for this historic home and offering engaging opportunities for the community to learn and nurture their love of and appreciation for history."
This exhibit was made possible through the Delaware County Foundation by the generous donations from the Ron Sabatino Family Fund and the Charles H. and Betty J. Sheets Family Donor Advised Fund.
The Delaware County Historical Society is a non-profit organization committed to promoting, preserving and sustaining interest in the history of Delaware County, Ohio. In addition to regular educational programming for all ages, DCHS owns and curates exhibits at several historical sites, including Nash House Museum, Meeker Homestead & Museum and the Delaware Historic Jail & Sheriff's Residence. The organization also operates The Barn at Stratford event venue for weddings, corporate meetings, and other special gatherings. To learn more or book an event, visit https://barnatstratford.org/.